One thing we noticed instantly about Brightwood is how quickly you become part of a close-knit neighbourhood where everyone is so friendly and welcoming, this was really important for us when it came to choosing a place to build our home.
Why we chose to build in Parcel Property's Brightwood estate in Baldivis
There are plenty of reasons why we love Brightwood, from the central location, to our very own Adventure Park and the special community feel, there is no doubt it is the perfect place to build the home of your dreams or bring up a family.
Parcel had a chat with new homeowners and Brightwood residents, Keira and Piers to find out about their journey to Brightwood and what they love about living here.
Why did you choose Brightwood Estate?
We were immediately drawn to the nature, community feel and atmosphere of Brightwood. Being situated close to wide open spaces and natural bushland, makes you feel like you have the best of both worlds, an urban location surrounded by everything you need such as shops and cafes, while being a short distance to bushwalks, open spaces and trails to take the pups for a walk, it's perfect.
One thing we noticed instantly about Brightwood is how quickly you become part of a close- knit neighbourhood where everyone is so friendly and welcoming, this was really important for us when it came to choosing a place to build our home. Brightwood is also a very beautiful estate, with the immaculately kept features such as the park, roads and footpaths, it looks great all year round…it definitely didn't take us long to realise this was the place for us.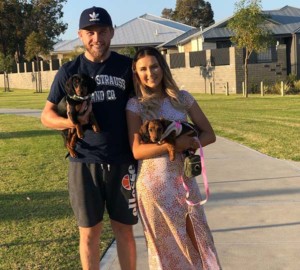 What was the building process like?
From applying to pre-approval and settlement, the whole process was so fast. We were completely supported throughout the whole experience and had really quick responses to any questions we had.
This made it so much easier and seamless, knowing you're supported from start to end and having constant contact makes you feel assured, it also makes it so much more exciting seeing it come to life.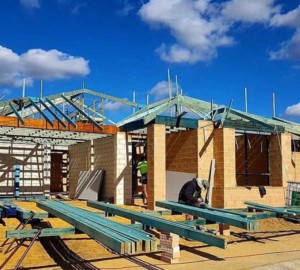 How long was the process from application to move in day?
The process was relatively quick and easy. It took just under a year for paperwork, settlement and construction. We had to come by everyday so we wouldn't miss any progress and of course take some snaps for our memories…we even had a slab party!
What was your favourite part about building your new home?
So many things come to mind, like choosing our tiles and the house layout however our favourite would have to be picking out the colours and then seeing it come to life. For months, even years, you imagine what your first home would look like and to see it come to life is truly something special.
Where is your go-to park or walking spots with your fur babies?
One of the best things about Brightwood is they have their very own Adventure Playground within the estate which can't be missed! We love to walk our two dogs there and to sit down for a picnic on the weekends or after a day of work to chill out. It's always such a great atmosphere with the rest of the community and gets us out and about, especially as it's so close.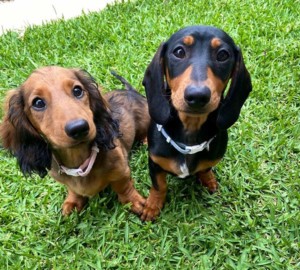 What is your favourite thing about living in Brightwood?
There are lots of things which we love about Brightwood however our favourite would have to be the people. We have our own Facebook group called The Brightwood Bunch where we all share any important news or updates. Everyone is so incredibly helpful and supportive which makes it so nice knowing you're surrounded by likeminded people and it really fosters a sense of community. We all have each other's back and we think that's something special.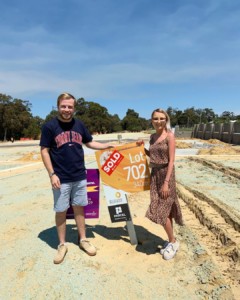 What do you love about the Baldivis community?
The Baldivis community is really unique, everyone is so lovely and will do anything to help you out. You are surrounded by sport, culture, shopping and everyone is community driven which you can tell, they make sure everyone is welcome too. There is always something to do or see as events are running all year round and they are perfect for all ages which brings everyone together and makes it a bustling, vibrant neighbourhood which we love being part of.
What are your favourite spots for coffee, dinner or drinks?
Living in a central spot we are actually surrounded by cafes and restaurants which are only a short drive away, but our go-to has to be Catalanos! It is our absolute favourite dinner spot for fresh pasta and amazing service…along with a fancy cocktail of course. Being a short drive, we are definitely regulars and love to support local at the same time.
What advice would you give to someone who is thinking about building in Brightwood?
If you're looking to join a safe, ever growing and supportive community then this is the estate for you. There are plenty of plans for the future of the estate which makes it such an ideal spot to suit your everyday needs, whether it's childcare or shops close to home. It's also a really smooth and easy process like we mentioned before, so go for it. We'd love to welcome you as our neighbours.