By and large, it is the best move we could have possibly made at our age – we don't need to consider a villa or retirement village and its really nice to stay in the same area, where we are really settled.
There's no doubt that in Western Australia, we love our space and, generally speaking, it is not something we have a shortage of – but the time may come when many of us find ourselves with too much space. Large living spaces, empty bedrooms, formal dining rooms and sizeable gardens that may have once been used daily when raising a family, now have become extra areas for cleaning and maintaining.
General Manager of Built Form at Parcel Property, Ross Catalano, said that the 'new era' of apartment developments offer a real solution for people wanting to downsize from the family home, without downgrading. "It used to be the norm that empty nesters would sell the big family home and buy a cheaper apartment, freeing up funds for travel or retirement," Ross said.
"This of course is still an option but more and more we see people choosing not to have a 'lesser' home but to have the benefits of apartment living."
"Small apartments are a thing of the past, as modern apartments now give downsizers choice and the best of both worlds, meaning there is no need to compromise.
"Parcel Property's apartment developments are all about modern, well-considered and generous living spaces – minus the unnecessary rooms and ongoing maintenance of a larger block." It's about well-considered design and utilising the space.
Ross said that moving into an apartment can open up greater lifestyle opportunities, such as living closer to the city or coast and having the flexibility of a 'lock and leave' home in a secure environment.
"One of the greatest benefits we see for people choosing to downsize is the ability to live either in the established suburb they know and love or to move into an area with great amenities on their doorstep."
For Jack and Kathy Sainty, making the recent move to Parcel Property's Carrington 57 in Palmyra was, in their son's words, "a real no-brainer."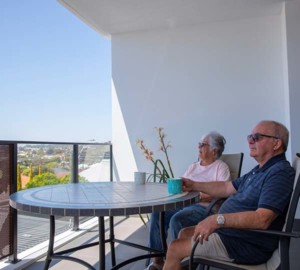 The couple, originally from the UK, had moved to Perth from New Zealand to be close to their two children and six grandchildren and quickly found their perfect home in Palmyra, where they lived for 21 years. A few years ago, as they were facing the prospect of another renovation of their now ageing home and a garden that was becoming difficult to manage, they came across Carrington 57 in their local paper.
Jack said that they made the first enquiry and have now just recently moved into their newly finished apartment, located only 300 metres from their former house. "Had it been any other builder, we wouldn't have bought off the plan but, with Dale Alcock's reputation behind Parcel Property apartments, we knew we couldn't go wrong – and the build really is spot on," Jack said.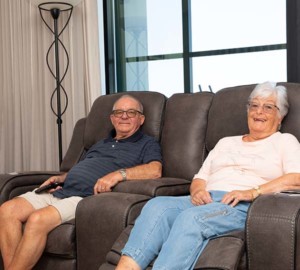 "By and large, it is the best move we could have possibly made at our age – we don't need to consider a villa or retirement village and its really nice to stay in the same area, where we are really settled."
While Jack said his shed is one thing he misses, he added that it had been about jobs that needed doing – whereas in his new home all he needed to do was hang pictures.
Kathy said they were really enjoying the views from their large balcony, as well as the 'lock and leave' lifestyle, which enabled them to take a spur-of-the moment trip down south. "It is really lovely to have all of this while staying in the place we know and love, central to everything we need – it is incredible how things work out," she said. Ross said that Parcel Property's growing portfolio of apartment developments are driven by a passion for creating great spaces where Western Australians can enjoy the advantages of apartment living.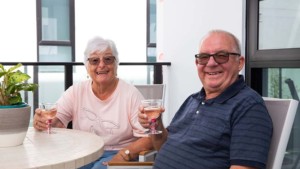 "Greater diversity of housing choice is ultimately what we're looking to provide between both our apartment and our land developments, so we will continue to challenge the market with new designs, high quality finishes and excellent value for money," Ross said.
"We're also here to guide the transition as we understand that selling your family home and downsizing can seem like a daunting process."